We have our winners! Thanks for your entries everyone!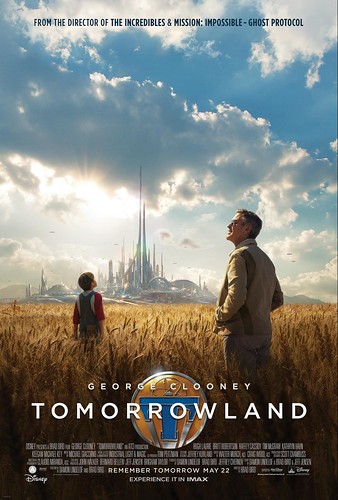 I don't know about you, but I've been waiting to see Disney's Tomorrowland since I saw the trailer. (You can watch that right here.) I'm all kinds of excited about this one. Not only is it directed by Brad Bird, the guy behind some of our favourite films including Ratatouille, The Incredibles, and The Iron Giant, but it also stars George Clooney. ENOUGH SAID.
If you haven't heard much about Tomorrowland yet, here's the official description via the movie folks. (Do yourself a favour and read the following in a deep and raspy "movie guy" voice.)
"Bound by a shared destiny, former boy-genius Frank (Clooney), jaded by disillusionment, and Casey (Britt Robertson), a bright, optimistic teen bursting with scientific curiosity, embark on a danger-filled mission to unearth the secrets of an enigmatic place somewhere in time and space known only as "Tomorrowland." What they must do there changes the world — and them —forever."
I have a family pack of four tickets to give away to one lucky family to the Ottawa sneak preview. (Yes, BEFORE it opens to the public.) It's taking place at 7 p.m. on Wednesday, May 20 at SilverCity Gloucester.
Want to win? Please read on!
This giveaway is for four tickets to the Wednesday, May 20 preview of Tomorrowland taking place in Ottawa at SilverCity Gloucester. Please make sure you are able to go before you enter. Note that you need to arrive early in order to get your seats as they do tend to fill up very quickly.
In order for your entry to qualify, please leave a comment below. Tell me, what's your favourite Disney film? Want another chance at winning? Leave a comment on this Facebook post.
This giveaway is void where prohibited by law.
If you can't post your comment for whatever reason you can email it to me for posting at andrea at quietfish dot com. Please note, I cannot be responsible if your entry is misdirected or gets stuck in my Spam folder.
I will draw one winner using Random.org at noon EST on May 15, 2015. The winner will receive their tickets in digital form via email.
Easy stuff eh? Good luck!