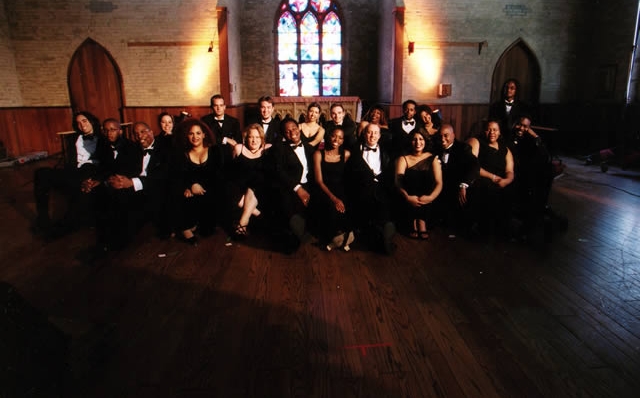 This ticket giveaway is from Fishbowl patron, the National Arts Centre (NAC). We are big fans of the NAC, and like to visit whenever we can. I'm thrilled that we have such a fantastic venue here in Ottawa. Over the years they've helped us introduce our kids to a rich variety of performing arts. Arts and culture is the essence of our national fabric – it weaves us together! And it's important to expose our kids to something outside of main stream screens – to broaden horizons, to inspire young minds – and the NAC gives us the means to do it.
This ticket giveaway is for a family-friendly matinée performance that sounds inspiring and illuminating in equal measure. Let me ask you, have you ever seen a gospel choir perform in person? Well, here's your chance! This performance is part of the NAC Ontario Scene festival.
Under the direction of founder and Artistic Director D. BRAINERD BLYDEN-TAYLOR, the NATHANIEL DETT CHORALE has been bringing Afrocentric choral music to the world for 15 years, mining the rich musical heritage derived from the African diaspora. As a response to being enslaved during the 17th, 18th, and 19th centuries, men and women of African heritage created spirituals, songs of sorrow, love, faith, and hope. Many of these songs were encoded with covert messages as a way to sing freedom into existence. Freedom Has A Voice conveys the power, universality, and enduring resonance of the spiritual – the music not heard with the ears – to demonstrate why these songs still live. Named to honour the legacy of African-Canadian composer R. NATHANIEL DETT, this innovative and world-renowned choir brings to Ontario Scene a powerful performance that will move your heart.
Doesn't that sound incredible? Thanks to my friends at the NAC I have four tickets to the Nathaniel Dett Chorale to give away to one lucky family.
Interested? Please read the following:
This giveaway is for four tickets to the May 2, 2015 performance of the Nathaniel Dett Chorale. It takes place at 3 p.m. at Southminster United Church. (Check out the NAC website for extra details.) Please make sure you are able to go before you enter!
In order for your entry to qualify, please leave a comment and tell me if you've ever taken your kids to the NAC. That's it!
This giveaway is void where prohibited by law.
If you can't post your comment for whatever reason you can email it to me for posting at andrea at quietfish dot com. Please note, I cannot be responsible if your entry is misdirected or gets stuck in my Spam folder.
I will draw one winner using Random.org at noon EST on April 29, 2015.
In other news, NAC fans new and old won't want to miss A Paintbrush for Piccolo! These family shows are a fun way to introduce children to the orchestra and inspire a lifelong love of music. And don't forget to check out the Tunetown activities before the show!